After an Alabama mom's kindergarten son insisted he had a twin at school, the boy's teacher decided to send her a photo so she could see her child's "lookalike." When she saw the photo of her boy and his twin, she had a very emotional reaction.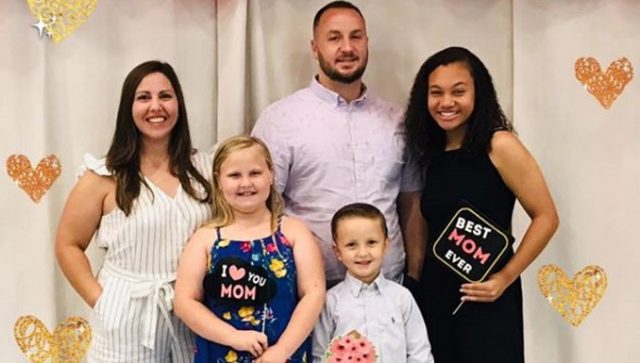 Britney Tankersley wasn't quite prepared when her son, Myles, told her about his last-minute plan to dress like one of his peers for "Twin Day" at school. The big event was the following day, and Britney didn't have matching outfits for her son and his fellow classmate. At 8 pm, it was the last thing she needed to have added to her list of to-dos, but Myles was adamant that he had to be twins with one classmate in particular because, according to the boy, they already bore an uncanny resemblance to one another.
"He went on and on about how they looked exactly the same," Britney explained to Today. "'We both have brown eyes, we both have dark hair,' and he was just adamant," the Foley, Alabama mom continued. Not knowing who this classmate was or how to contact his mother and without matching clothes for the two boys, Britney initially reacted with annoyance, but with Myles' insistence, the busy mom finally caved.
An hour later, after tracking down the boy's mom, getting his size, putting her own kids to bed, and leaving them in her husband's care, Britney headed to the store. "I head to Walmart, and I'm like, irritated. I'm like, this is too late. I'm too old for this," the exhausted mom recalled. Making matters worse, there wasn't much left on the shelves. Finally, Britney settled on two button-downs with "Future Leader" imprinted above the shirt pocket, "the only decent shirts left" in their sizes.
As Myles got ready for school the next day, he continued to insist that he and the boy, who Britney wasn't familiar with, were identical. Finally, the mom decided she needed to see for herself, and as she sent Myles off to kindergarten that morning, she asked his teacher if she could take a photo of Myles and his twin and send it to her so she could see the resemblance her son kept talking about. The photo she would receive of her son and his "twin," who she learned is named Tanner, would leave her in tears.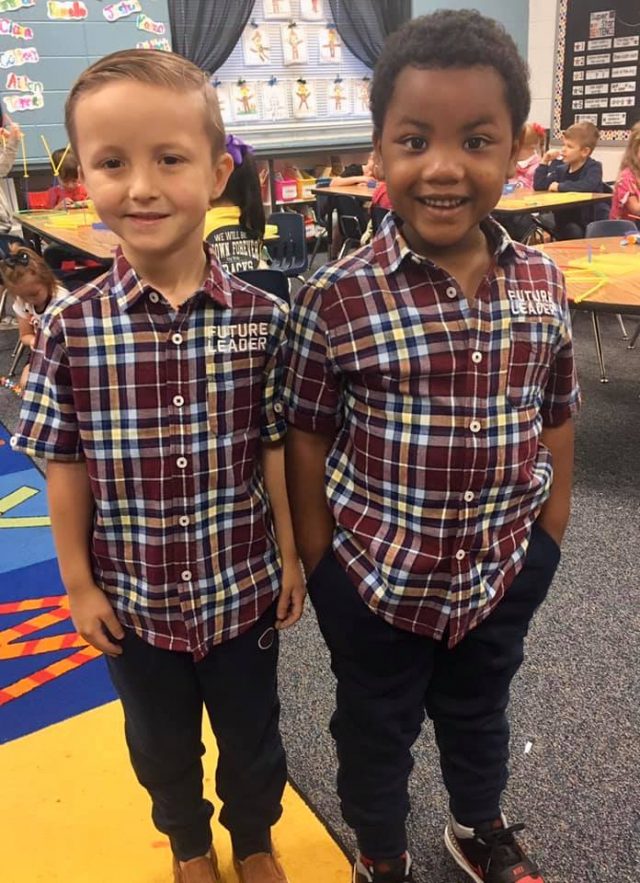 Obviously, Myles is white and Tanner is black, but to Myles, skin color didn't matter when determining how similar they look. Moved by her son's innocence, Britney Tankersley shared the photo on Facebook, where it quickly went viral. "My heart melted," Britney wrote alongside the photo after explaining what led up to the image. "Obviously two very different children, but Myles didn't see that. Wouldn't the world be such a better place if we could all view it through the eyes of a couple [of] 5-year-olds."
Britney admits she broke down upon seeing the photo. "I was basically crying because it was so sweet," she said. "Obviously, I know that they don't look alike at all. But, he didn't see that, you know? I expect to get a picture of another white child with light skin and brown hair, whatever, but I didn't get that at all. And, I said, 'That is the sweetest thing in the whole world.'"
"It's so crazy," Britney said of the sudden internet fame. "My objective is never to be in the spotlight, but I think the message is more important than how much it exploded," she continued. But, this isn't the first time the mom and her son have garnered some unexpected attention.
Since Myles, who's hearing impaired, has a cochlear implant to help him hear, Britney decided to show unity with her son in the form of a head tattoo, and it definitely didn't go unnoticed. "Cochlear America's has decided to publish an article on Myles & his story," the mom captioned an image featuring her new ink. "I suppose when you tattoo their product on your skull it stirs up quite the conversations in the world of hearing."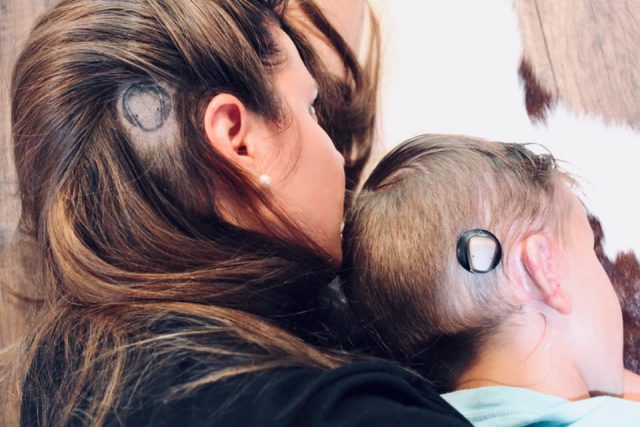 "All the teachers at school are so excited," Britney said about the attention Myles and Tanner's photo received. "There's always a lot of kids that dress up that don't look alike, but this was unique. I was kind of put in my place because I was expecting to see something totally different, and that's not what it was at all," she said, adding that Myles and Tanner are now "the best of buddies," and since they live only a few minutes from each other, the families have spent time together after Twin Day.
As Britney Tankersley stood in her local Walmart, trying to find matching shirts for the boys, she never imagined her child was about to leave a lasting impression on the world. She also didn't realize that the last shirt available would be the perfect one to capture her kid's character. There's no better way to describe a child who sees the world the way Myles does than a "Future Leader."