After a week full of controversy over his new song "Try That In A Small Town", Jason Aldean was met with overwhelming support from his audience in Cincinnati, OH last night.
During a break in the concert, Aldean directly addressed the crowd with an epic Pro-America rant, and the crowd went absolutely wild.
"Well, I gotta tell you guys it's been a long ass week. It's been a long week and I've seen a lot of stuff suggesting I'm this, suggesting I'm that," he began. "What I am is a proud American," he added as the audience cheered loudly.
"I love our country and I want to see it restored to what it once was before this bullshit started happening to us. I love my country, I love my family and I'll do anything to protect that," he concluded as the crowd roared with approval and began chanting "USA! USA! USA!"
As we reported yesterday on TrendingPolitics, Aldean's "Try That In A Small Town" has become the sixth-most played song on Spotify as the anti-riot, pro-gun anthem continues its run of success in the face of left-wing backlash.
Spotify's Top 50 U.S. playlist updates every Friday and includes songs from a multitude of genres. Aldean's single — which was released this past May — failed to crack the top 50 last week. After Country Music TV (CMT) opted to remove the music video from circulation earlier this week, however, Aldean's single has benefited from the "Streisand Effect" by not only entering the top 50, but debuting on the list at number six.
Among Country songs, the song has rocketed up to the number two slot, sliding in just behind Morgan Wallen's "Last Night," which has remained atop the overall chart for weeks. "Try That In A Small Town" also surpassed Luke Combs' "Fast Car," another Country hit that has remained atop charts for a considerable amount of time.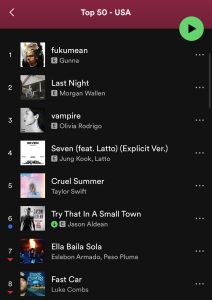 In addition to topping Spotify's charts, the song has also secured the top spot among iTunes' most purchased singles. Austin Moody's "I'm Just Sayin'" — another anti-woke Country anthem — has also vaulted into the top 10 at number seven.